GLOBAL SYNCHRONIZED MEDITATIONS FOR WORLD PEACE
Dear Zaida,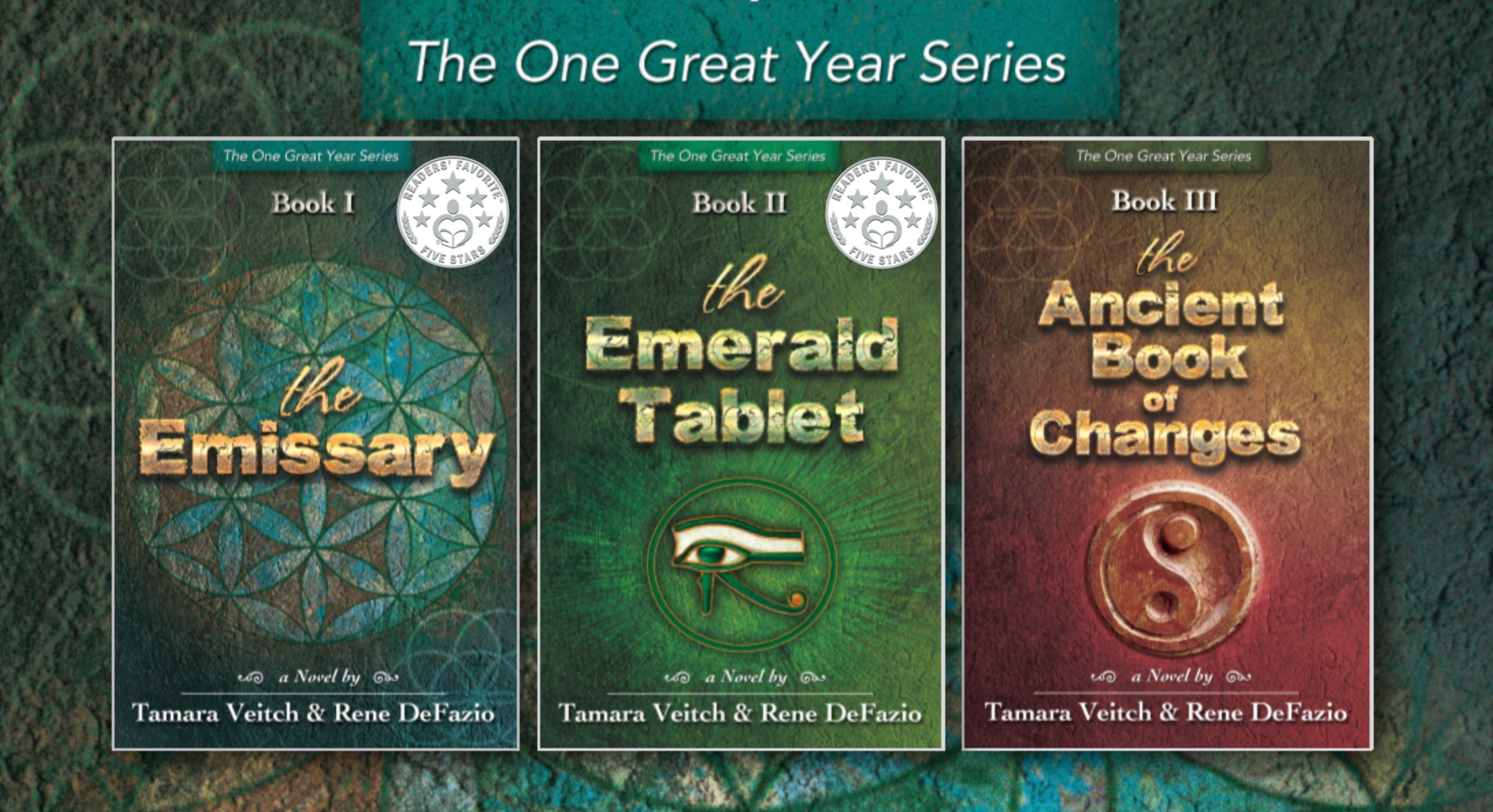 Thanks for doing the Soul Purpose Quiz! We are Rene DeFazio and Tamara Veitch, the authors of The Emissary and The Emerald Tablet, Books I and II. Together we write award winning, reincarnation fantasy adventure novels. By embracing our dreams and risking everything, we were able to find purpose and fulfillment in this complicated world. It all began with us asking: what is the meaning of life and what are we doing here?

Because we created characters that are reincarnated throughout history, we were able to identify clear 'purposes," that are intrinsic personality types and tendencies and are easily recognizable. The Soul Purpose Quiz and the important follow up information are intended to help you increase self-awareness and happiness in your own life.

For more information about us, to contact, or to learn more about The One Great Year Novel Series please visit our website www.onegreatyear.com or @onegreatyear on Facebook, Instagram and Twitter.

-- Tamara & Rene




Here are your scores:
Guardian =

130 points


Producer =

70 points


Elder =

100 points


Warrior =

10 points





Guardian (130 points):  Guardians are scholars, scribes, and lifelong students. As a Guardian you are always searching for new information. You are curious, resourceful, creative, imaginative and observant. You are a lifelong seeker and keeper of knowledge including a vast array of theories and alternative beliefs and are likely a voracious reader. You will notice that you often bring information to your family and friends that they have never heard before. Guardians can be both social and solitary in nature, from the most introverted bookworm to the writer-actor sharing their work on the stage.




Some of the careers that might bring the Guardian fulfillment are: scientist, teacher, theologian, architect, poet, writer, journalist, librarian, or artist.




As a Guardian you are among a mysterious group. The Knights Templar, Masons, members of secret societies and symbologists. The authors of the dead sea scrolls would have been Guardians and in more current history, those who discovered and shared or suppress them would be also.




If you are a Guardian feeling unfulfilled or in need of direction it may be a simple as reading more, writing more and seeking out the company of other Guardians with whom you can exchange ideas. The Internet is the Guardians playground! 




Producer (

70 points)

:  The Producers supply all the comforts and many of the inventions that make life easier. As a Producer you love the simple things in life and tend to be easy going and hard working. You are unlikely to seek out or tolerate drama in your personal life, preferring serenity and peacefulness.


The Producer usually prefers activities that do not require prolonged deep thinking or emotional gymnastics. You might have profound personal beliefs but you rarely feel the need to re-examine them or to tell everyone you know about it. As a Producer you enjoy socializing over meals or drinks with friends but have a solitary, focussed side as well, especially when on task. The Producer loves to be creative and bring projects from their imagination to life. You are good at puzzles, model building and might be collectors. Most doctors, nurses and other traditional health practitioners are Producers.




Producers keep our society and civilization running. Builders, engineers, servers, homemaker, farmers, potters, artisans, botanists, landscaper, beekeeper, woodworkers, mechanics, tailors, home decorators, or clothing designers are just some of the many examples.




If you are a Producer and you are feeling like you need direction and purpose in your life, we suggest you build or create something you have always dreamed of. You might also find your fulfillment caring for someone (or something) else. If you are content and fulfilled, we suspect you are likely already doing so!






Elder (100 points):  If you are an Elder you are a born leader but not necessarily a boss since you do not seek or desire power and control over others. People in your life look to you for guidance and as an Elder you have no doubt of your role and work daily to fulfill it. Elders are humble, compassionate, empathetic, and good listeners and do not get caught up in gossiping and self- consciousness. The true elder is joyful but can be intense and might appear impatient or angry when teaching others, especially if that is what the student most needs to learn. The Elder can also be a loner, completely satisfied with their own company.




The Elder is happy and fulfilled in a vast array of occupations because they tend not to equate the roles they fill and play in the world with who they are. Supporting others, offering unconditional love and asking little in return are all traits of the Elder.




 Shamans, psychics, spiritualists, natural- ayurvedic and alternative healers all may fall into this category. Though the Elder is a born leader, this group rarely includes politicians and figure head leaders such as Kings, Presidents, Prime Minister which fall under Warrior role.




If you are feeling unfulfilled or like you need direction you might be buying in to society's model too much and wondering why you are not more motivated to achieve recognition, fame and fortune. More likely you are happy where you are, not getting caught up in the rat-race.






Warrior (10 points):  As a Warrior you are a thrill seeker, brave, and willing to face your fears. Warriors are usually athletic, physical, stoic, and can have a great sense of humor. Warriors are loyal and are likely to be a group member and team player. This loyalty may be a treasure and a curse since not all people in your life will hold the same high standards for loyalty that you do.  Warriors are often righteous and hold strong opinions which make them excellent leaders. Warriors are industrious and are excellent problem solvers. Your fearlessness is a comfort to others, especially in difficult or dangerous situations.




Change often makes a Warrior uncomfortable, but you are driven and determined which makes you likely to achieve your goals and feel successful in life.




Soldiers, generals, race car drivers, athletes, firefighters, police, human rights advocates, CEOs, lawyers, and most political leaders are Warriors. 




If you are Warrior feeling unfulfilled or in need of direction you might benefit from joining a new group or starting one. It may be something small or you might decide to run for Mayor, either way embracing your natural ability as a leader, helping others, will benefit you. If you are already a leader and are feeling unfulfilled or frustrated, you might need to ease off the power and control aspects of your personality and delegate to allow others to flourish under your guidance.





Important Final Words...
For each of the core purposes there are light and dark aspects to be reckoned with. Like the characters in the One great Year Series we call these the Emissary or Adversary traits. Please watch for our next email where we will share with you the light and dark age aspects of your soul's purpose and help you navigate them in yourself and in others around you.
Please encourage your family and friends to complete the Soul Purpose Quiz and learn how you are different and alike. It can help to better understand one another.